Conventional Harvest Mix
Large (50 servings)............$82.00

Medium (25 servings)........$47.00

Small (16 servings).............$42.00
Conventional Staples Mix
Large (50 servings)............$72.00

Medium (25 servings)........$44.00

Small (16 servings).............$39.00
Conventional Peelable Mix
Large (50 servings)............$86.00

Medium (25 servings)........$48.00

Small (16 servings).............$43.00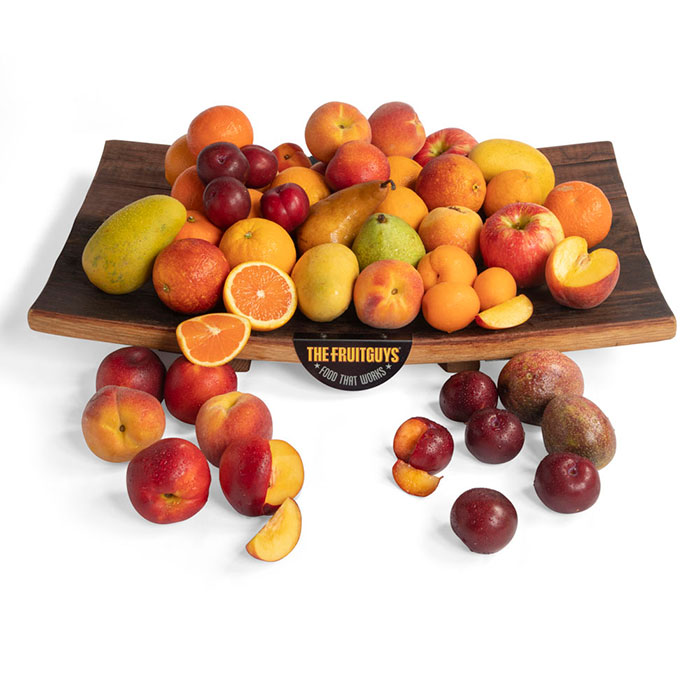 Conventional Seasons Best Mix
Large (50 servings)............$87.00

Medium (25 servings)........$53.00

Small (16 servings).............$45.00

Mini (9 servings).................$39.00
How much should you order?
Start with 2 pieces of fruit per person per week
You will earn The FruitGuys incentive bonus if your client starts a recurring order! Contact Kate Meredith at Aramark for more information.
Why Choose Us?
As the nation's original fruit delivery company, we have been delivering health and smiles to millions of people across the country since 1998. We are still family-owned and operated. Your business helps support our mission to fight hunger and support small farms. 
The FruitGuys is the trusted fruit delivery partner for some of America's largest and most successful companies. 
GoodWorks Together
Your business with us upholds The FruitGuys' mission to support small farms and feed the hungry. We proudly feature products from other B Corps, companies that are part of a global movement to use business as a force for good.